Are you curious about using coffee for hair?
Perhaps you've heard about coffee hair dye side effects or the promising effects of using coffee for hair growth.
Well, let's talk all about it in this post – the uses, benefits, and possible side effects of using coffee for hair. We'll start with the most popular fact; coffee hair dye side effects.
Coffee Hair Dye Side Effects
Coffee is an easy-to-get hair ingredient with many benefits.
But like every other hair ingredient, there are possible side effects.
The good thing about coffee is that you can avoid these side effects if you take the necessary precautions.
The first precaution to take is to know the possible side effects.
So here you go, here are the possible side effects of using coffee for hair:
1.    Hair Loss
Right. Coffee can help you deal with hair and promote hair growth but watch out! It may also cause hair loss.
This could happen if you overuse coffee for your hair.
Applying coffee to your hair too frequently can distort your hair growth process and cause hair loss. 
Aside from applying to your hair, drinking too much caffeine can also stunt your hair growth.
To avoid this possible effect, you should apply coffee to your hair at most once a week.
2.    Chemical Damage
Using instant coffee for your hair can introduce strange chemicals to your hair because instant coffee is processed and contains preservatives.
To prevent this side effect, you should use fresh ground coffee beans as often as possible when preparing your coffee hair mask.
3.    Burns
This can happen when you use hot coffee for your hair.
As you can expect, hot coffee will severely burn your hair and scalp.
The way out is always to allow the coffee to cool down before applying it to your hair or scalp.
4.    Staining Effect
Coffee has staining effects. That property is what makes it an effective natural hair dye.
While this is a benefit in itself, it could be undesirable if your hair is light-colored and you do not want any alteration to its color.
There is no way to prevent coffee from staining your hair with black so the best thing is to avoid using coffee for your hair if you would not want it darkened.
5. Hair Dryness
Coffee makes your hair dry and weak when you overuse it.
So you want to be moderate with its use.
As mentioned, you should not apply coffee to your hair more than once a week.
Benefits of Coffee for Hair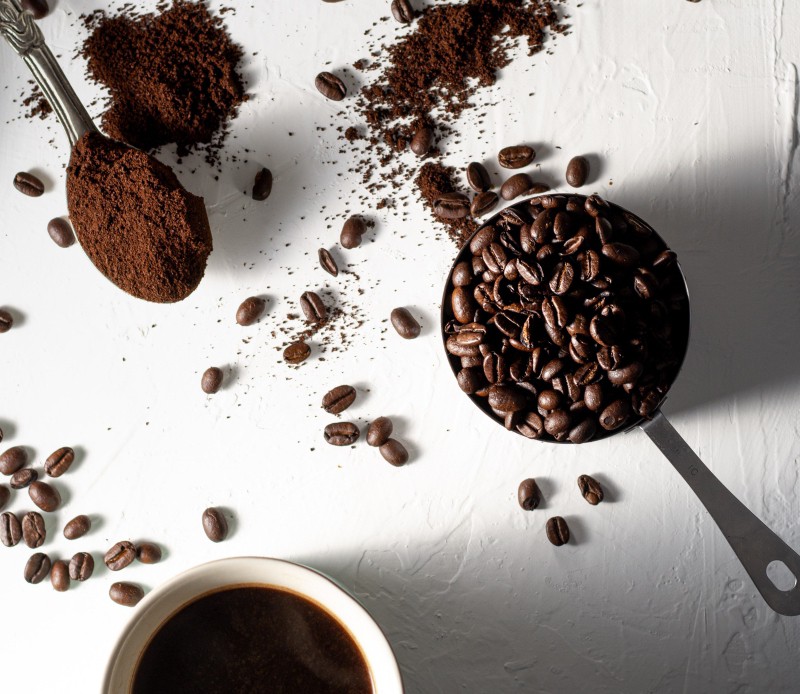 Caffeine is the main ingredient in coffee. And you probably know that consuming too much caffeine is bad for your health.
It is also bad for your hair. But that's for excess use.
Moderate amounts of coffee can do your hair a whole lot of good. Some of these benefits are:
1.    Improved Hair Growth
Research has shown that caffeine is a natural hair growth stimulant.
Applying coffee to your hair can help foster its growth, especially when you use it for a scalp massage.
A coffee scalp massage would promote blood circulation within your scalp and exfoliate your scalp, removing dead cells that may slow down hair growth.
These factors contribute to your hair growing faster, healthier, and thicker.
2.    Control Hair Loss
Hair loss, especially when it's alopecia, can be annoying if not depressing.
If your hair keeps falling off excessively, here's some good news.
Research published by the National Library of Medicine mentions that caffeine (the main ingredient in coffee) may be used as an alternative to drug-based treatment of alopecia.
This is because caffeine can easily penetrate the scalp and trigger hair growth.
Coffee is an excellent ingredient for dealing with hair loss.
3.    Prevents Damage
Coffee contains antioxidants.
Apart from preventing diseases in the body, antioxidants also prevent the hair from being damaged.
By applying coffee to your hair regularly, you'll be fortifying your hair to fight against breakage, dryness, and other hair issues that could lead to damage.
4.    Improves Hair Look
A common antioxidant in coffee is flavonoids.
This antioxidant prevents your hair from looking dull.
Coffee also helps to seal in present moisture, and add shine to your hair.
This makes your hair bright-looking, moisturized, and shiny.
5.    Dyes Hair
One of the most intriguing benefits of coffee for hair is its ability to dye your hair strands.
If your hair has become grey with age or gotten lighter due to damage, coffee is one of the safe ingredients that can come in handy.
This study shows that using coffee is a convenient way to reduce greyness. Although it may not intensely darken your entire hair, coffee can help your hair look darker than its current state.
How to Use Coffee for Hair
There are different ways to use coffee for hair.
The method you choose should depend on what you want coffee to do for your hair.
We've listed out different methods here based on different benefits:
Coffee Hair Mask for Grey Hair
If you want to use coffee to darken your grey or light hair, here's how you go about it.
What you'll need
2 cups of brewed black coffee
2 teaspoons of leave-in conditioner
Steps
Brew two cups of coffee and leave it to cool down
When it is no longer hot to cup, add two teaspoons of your favorite leave-in conditioner and mix well
Apply the mixture to your neatly washed hair and cover with a shower cap
Leave it on your hair for about 40 minutes and then rinse it out with cold water
Rinse your hair till it becomes clean of any coffee residue
Let your hair air-dry
Coffee Mask for Hair Loss
Use this hair mask if you want to use coffee to stimulate your hair growth.
The key is to add hair growth oil to coffee and massage your hair.
What you'll need
3 teaspoons of coffee powder
1 teaspoon of coconut oil, olive oil, or any other carrier oil
1 teaspoon of honey
Steps
Mix the coffee powder, hair oil, and honey in a bowl
Use a hairbrush or the back of a tail comb to apply the mixture to your hair and scalp
Massage your scalp gently for about five minutes
Then, cover your hair with a shower cap for about 20 minutes
Rinse the mixture off your hair with clean water
Air-dry your hair
Coffee Hair Oil for Regular Hair Care
You can prepare coffee oil yourself at home for your regular hair care.
Regular use of coffee oil will strengthen your hair and provide all the benefits described above.
What you'll need
Four teaspoons of your chosen carrier oil
Two teaspoons of roasted coffee beans
Few drops of peppermint oil, tea tree oil, or any other essential oil of your choice.
Steps
Warm up the carrier oil in a pan
Add the coffee beans and cook on low heat for at least an hour
Once the mixture is all oily, remove it from the heat source and let it cool down
Apply it to your hair and scalp nightly
Coffee Hair Mask for Scalp Benefits
To enjoy the exfoliating benefits of coffee for your scalp, you have to prepare a coffee hair scrub.
Here's how you go about it:
What you'll need
Three teaspoons of grounded coffee beans
Three teaspoons of granulated sugar
Steps
Mix both ingredients in a bowl
After wetting your hair, apply the mixture to your scalp
Massage your scalp gently for about ten minutes to exfoliate it
After the massage, leave the ingredients on your hair for about 20 minutes
Give your scalp a final brief massage and then wash off with cold water
Over-the-counter Products
Apart from preparing a hair mask yourself, you can alternatively use coffee for your hair by buying hair products that contain coffee.
These hair products are usually labeled "caffeine-based."
They contain coffee beans, biotin, and hyaluronic acid, ingredients that'll provide your hair with the many benefits of coffee for hair and more.
Hair products that you can buy include:
Caffeine-based shampoo
Caffeine-based conditioner
Coffee-based hair oil
Coffee-based hair serum
Frequently Asked Questions about Coffee for Hair 
Can I Put Coffee in My Hair Overnight?
Yes, you can apply coffee to your hair at night and wash it off the next morning.
The only downside to this is that the coffee may stain your pillowcase when you sleep.
So if you'll be leaving coffee in your hair overnight, ensure to wrap up your hair and cover it properly so you don't ruin your pillowcase.
How Long Does Coffee Hair Dye Last on Hair?
A coffee hair dye would only darken your strands a little and the more you wash, the more it fades off.
If you wash your hair regularly, a coffee hair dye will only last you about one week.
If you refrain from washing your hair, you can expect it to last about two weeks.
Which Type of Coffee is Best for Hair?
Grounded coffee beans are best for hair because they will give your hair a more natural effect.
Instant coffee will also benefit your hair but may introduce chemicals to it.
How Effective is Coffee Hair Dye?
Coffee is an easy, safe way to dye your hair but it doesn't provide a deep dark hue.
Real-life comments of those who tried the coffee hair dye mention that coffee made their hair feel healthier and black-stained, but not close to the results you'll get using chemical hair dyes or some other natural ways to get darker hair.
Can I Put Coffee in my Shampoo?
Organic coffee powder is a suitable addition to your shampoo.
You can add a few spoons to your bottle of shampoo and use them to wash your hair as usual.
Final Words
Coffee may sound strange as a hair ingredient, but it turns out it can do your hair a lot of good.
Whether it is for hair growth, a healthy scalp, or hair dyeing, coffee can come in really handy.
Remember, a coffee hair dye may not make your hair as black as coal, but it can give your hair modest staining effects to darken grey or light-colored strands.
Use it safely, and enjoy the interesting benefits of coffee for hair.