Hi there! You're probably on a quest to purchase a quality human hair wig.
However, before you spend a considerable amount of money to buy a human hair wig online, you need this ultimate guide.
Are you wondering why? I'll tell you.
There is a lot of fake hair out there, and it's easier to sell them to someone who knows nothing or just little about human hair wigs.
Experience does not have to be your teacher on human hair wigs; this post can be an excellent, no-loss-related teacher.
In this post, we'll explore the types of human hair wigs famous out there in the market, terms you should be familiar with before you even think about buying human hair, and tips that can help you while purchasing human hair wigs online.
After providing you with this essential information, you won't wander on your own as this post also offers a list of online stores to get quality human hair wigs in Nigeria.
Let's start by answering an often overlooked, important question.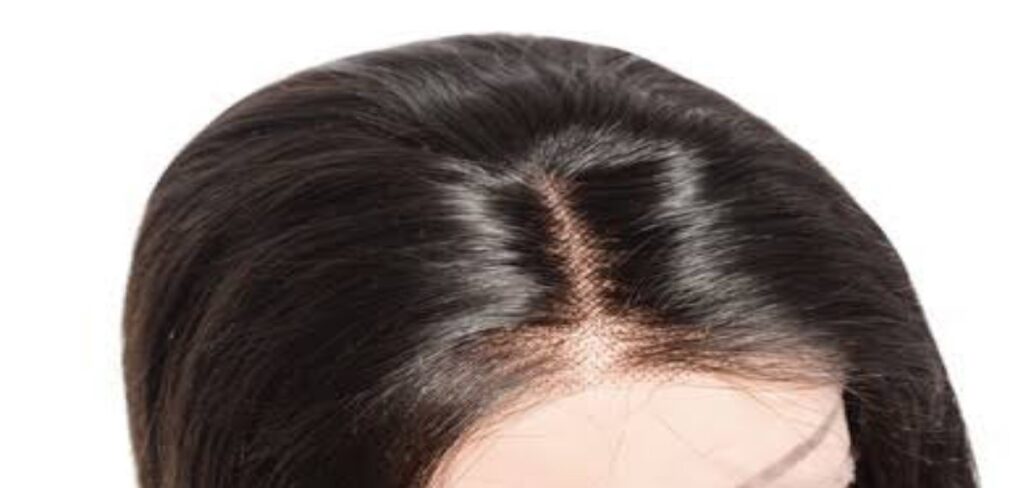 What are Human Hair Wigs?
Generally, wigs are hair accessories worn as a covering on the head. They can be made from different types of hair – artificial or natural.
For human hair wigs: The hair wigged for wearing is raw and unprocessed. It is gotten from hair donors with long and healthy hair.
Hence, wearing a human hair wig is like putting on real, natural hair. The only difference is that it did not grow from your scalp.
There are several good reasons for wearing wigs, and they are mentioned in this post as pros of wearing wigs.
Human hair wigs are preferred to synthetic wigs by many individuals because they are long-lasting.
Some human hair wigs come with as long as an 8-years guarantee. A very worthy investment if you ask me.
Many also prefer human hair because they are versatile and can be styled in various ways.
If you ever get bored of how they look, you can always switch up their look by dyeing them to a different color, curling/ straightening them, or bleaching them.
If these or any similar reasons have moved you to decide to buy a human hair wig, you've made a great decision.
Read on to explore the different types of human hair to help you make a more informed decision.
Types of Virgin Human Hair Wig
Human hair wigs sold in the hair industry today are mainly from China, India, Indonesia, Europe, Brazil, and Peru.
Hair from each source has its distinct characteristics.
1. Chinese Hair
Hair from China is mostly straight. Unprocessed, the hair is very thick and coarse.
Only after processing does it become usable for hair extensions or wigs.
Hence, Chinese hair does not come as Virgin hair.
2. European Hair
European hair has high quality and can be used without any chemical processing.
It looks shiny and has a texture that blends easily with other hair textures.
Real hair from Europe is generally expensive because there are fewer hair donors from Europe.
3. Indian Hair
Human hair wigs from India have a nice texture that can blend easily with other hair types.
Because there are many hair donors from India, Indian hair is more available and less expensive than European hair.
It can be styled easily and responds favorably to chemical processes like dyeing and bleaching.
4. Indonesian Hair
Raw Indonesian hair comes very thick and full. Despite this, it is soft when touched and blends easily.
Because of its full, natural appearance, few bundles would be sufficient to give a full, natural look when fixed.
It has a medium luster. It does not look too shiny, nor does it have a dull look.
Like hair from many other sources, it may be straight or wavy.
5. Brazilian Hair
Brazilian hair is a must-have for a lot of people.
It is highly desired because it has combined characteristics of an ideal human hair. It is durable, soft, and voluminous.
Because of its thick volume, fewer bundles are needed to create a full look. Its average amount of shine also gives it a very natural look.
Compared to other hair sources, hair from Brazil is less prone to frizz despite its thick nature.
It also holds curls more readily and can be styled in various ways.
6. Peruvian Hair
Peruvian hair is perfect for those who love light-weight hair.
It is so light in weight that you can fix about six bundles, and your head would not feel heavy at all.
Peruvian hair does not have the amount of shine that makes it look synthetic. I
nstead, its low to medium luster gives it a very natural vibe. It blends excellently with relaxed hair.
7. Malaysian Hair
Malaysian hair is another excellent virgin hair type.
It is easy to maintain even without plenty of hair products. It holds curls excellently and has a sleek nature.
Malaysian hair has a typical dark-brown color which may be dyed to other colors as desired.
Terms Related to Human Hair Wigs
When buying human hair wigs, there are terms that you cannot but come across. You should get familiar with them first, so you do not appear a novice. The following are terms related to human hair wigs: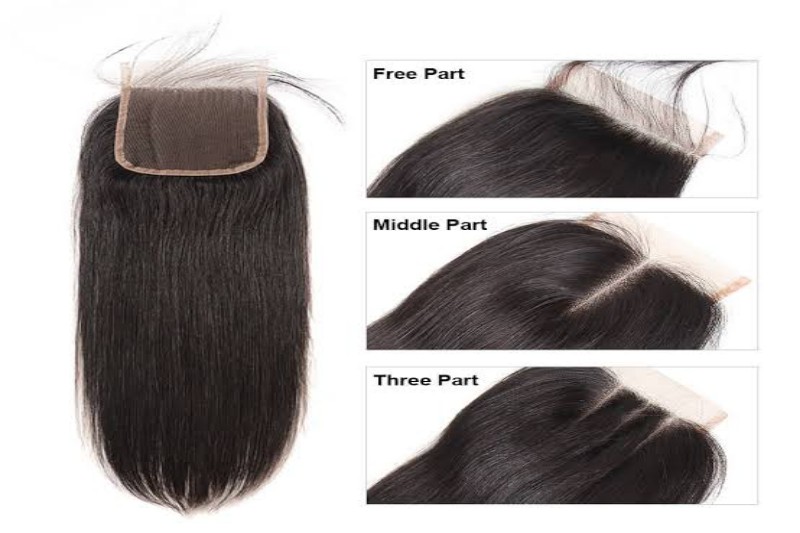 1. Lace Closure
Lace closures are used for wigs these days. Almost no one opts for the usual sew-in method to close wigs anymore.
Closures are ready-made hairpieces that are fixed to create a natural parting of the hair. Closures create the illusion that the hair is growing out of your natural scalp.
Closures are either lace or silk-based. Lace closures create the most natural look.
Closures can also be categorized based on styling. There's the free part closure, middle part closure, and three-part closure.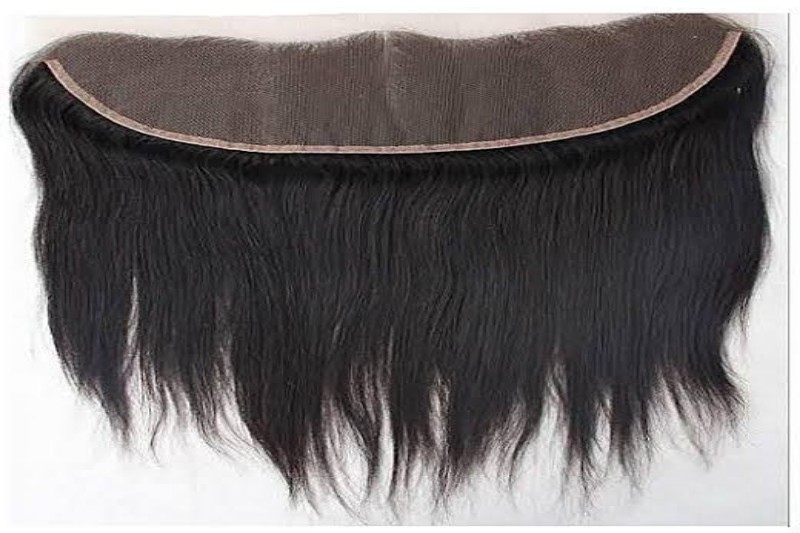 2. Frontals
A frontal is like a wider closure. It's a readymade hairpiece fixed from ear to ear such that there's a natural parting wherever you part it in front.
They are more expensive than closures but are more versatile. They also look more natural – as long as they are properly installed.
A human hair wig made with frontal is called a Lace front wig.
3. 360 Lace Wig
This is a type of closure that, as the name implies, runs through the entire hairline (like 360 degrees).
The wig cap covers only a small part in the middle of the wig; everything else is made of lace closure.
It's the most versatile type of wig, offering the user the opportunity to part the hair anywhere at all and style it in various ways.
It is very nice for ponytails, leaving beautiful edges everywhere, even for the back hair.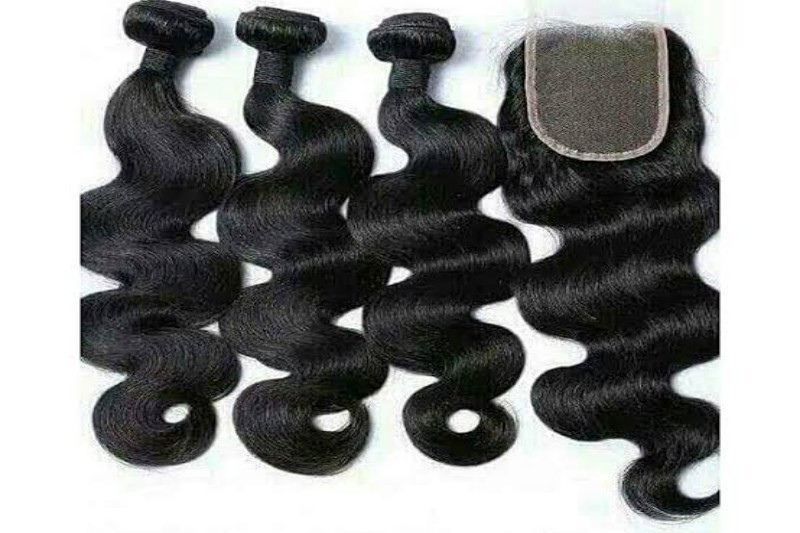 4. Body Wave Hair
Body wave hair is a type of hair pattern that is neither curly nor straight. It looks like very loose curls, forming a consistent 'S' pattern.
A close pattern is the loose wavy hair type that has tighter waves.
Both are beautiful hair patterns for human hair wigs combining the benefits of both straight wigs and curly wigs.
5. Full Lace Wig
A full lace wig is made entirely of lace with individual hair strands looped in. No wig cap, it's the lace material all through.
Usually, this lace material matches your scalp, so you can insert a part anywhere on your wig.
Full lace wigs are so versatile that they can be styled into braids or cornrows.
6. Single Drawn Hair
Single drawn, double drawn, and super double drawn are terms used to describe human hair based on its density. So what's single-drawn hair?
Single. Drawn. Drawn just once.
A human hair wig is called single drawn when all of the hair has been gotten from a single donor and then sewn in a weft – without any styling process. Hence, the hair ends are thinner and unequal, like our natural hair.
Single-drawn hair is less expensive than double drawn due to the absence of processing cost.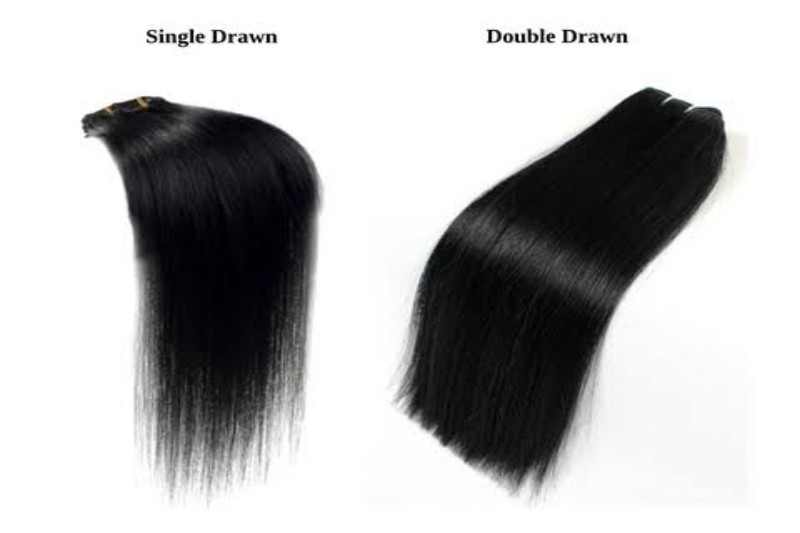 7. Double Drawn Hair
Double. Drawn. First drawn, then drawn again.
A hair is double drawn when it has been first drawn from donors and then drawn again to remove the shorter hair strands before sewing it to a weft. Hence, double-drawn hair has equal hair ends.
Unlike single drawn, where the top is full, and the hair ends are thinner, double drawn hair is full from root to end.
Equal and full hair ends are characteristics of double-drawn hair.
As you can expect, it is more expensive than single drawn hair.
8. Super Double Drawn Hair
There's also super double-drawn hair where the hair ends have been properly processed such that they are even fuller than the roots.
It's the most expensive when categorizing human hair based on density.
Where to Buy Human Hair Wig Online in Nigeria
Hairporium was formerly known as Humanhairnigeria. It is a nice store for purchasing quality human hair in Nigeria.
Their website is easy to navigate as you get pictures of available human hair and prices right on their landing page.
They also have nice online reviews from past customers, giving a reason to be trusted. Fast delivery is a pro for this store as they claim 24-hour delivery speed.
Their products are classified, so you can choose to buy either virgin human hair, Remy hair, or non-Remy hair depending on your budget.
This online store sells nice human hair wigs in both retail and wholesale. You'll find pleasing online reviews for them.
One great thing is that they offer free shipping and a 5% discount when you order for items totaling $200 and above.
Their site is also easy to navigate, and you'll find a variety of human hair bundles and wigs clearly labeled.
Bibohair is a Vietnam-based company that sells 100% unprocessed virgin human hair in Nigeria.
You can order your human hair wigs and get them delivered to you anywhere in Nigeria.
They have shipping partners that ease the delivery, or you could use the service of shipping agents.
Bibohair sells closures and frontals, and other hair extensions at reasonable prices.
Jumia is an online shopping store that sells a variety of items — including human hair wigs.
You'll find different types of wigs under their human hair wig category.
Ensure to check the description clearly and price comparison before ordering human hair wigs on Jumia.
Hairlo collection is a brand that sells 100% human hair at one of the affordable prices you'll get around.
Hairlo has a reputation for selling only human hair, not blend or synthetic. Hence, it's a nice stop for shopping human hair wigs in Nigeria!
Tips on Buying Human Hair Wigs Online
Buying human hair wigs online can be risky because you cannot see or touch the wig to know if it is real human hair.
These tips will help you get the best out of shopping for human hair wigs online:
1. Compare Prices
It is a fact that human hair is expensive.
Human hair should be expensive. Human hair is not cheap. If you see a price too good to be genuinely attached to a human hair piece, that's some reason to have second thoughts.
But how do you know when a price is too good to be true, especially if you are not familiar with hair prices?
Apply this first tip – compare prices. After confirming the price of a particular type of human hair wig at a certain store, check for the price on other hair stores. If you find a price difference that is too high, there's a high chance you're about to get synthetic hair instead of human hair.
Also, think twice before jumping at very high sale discounts. For example, it might be a chance for hair vendors to sell human hair blend in the guise of human hair.
2. Get Details from Supplier
Before you make payment for any hair online, you should get as many details as you can.
As long as the supplier does not have anything to hide, providing you with all the details you need – even before you ask – should not be a problem.
Ask for things such as where the hair is being imported from and what type of human hair it is. Indian, Chinese, Malaysian, Peruvian, or Indonesian – you should know exactly what you're getting.
Another tip is to ask the supplier how the hair can be bleached. Ideally, human hair wigs can be easily bleached while synthetic hair cannot.
You should also get live pictures of the exact hair you're buying, not just a random online image.
3. Use Online Reviews
Online reviews are like a list of past experiences of others who have visited where you are visiting.
Making good use of them will help you decide whether or not you can trust a particular online store to deliver real human hair wigs.
If you find bad reviews that lead you to conclude that you cannot trust a hair store, it is better not to shop from them.
Simply put, learn from the mistakes (or good experiences) of other buyers.
Asides from online reviews, you should also carry out proper brand research and not purchase from just any store that comes your way.
It may seem unnecessary, but trust me, it is worth the stress.
Frequently Asked Questions about Human Hair Wigs
1. How long can a human hair wig last?
Human hair wigs last way longer than synthetic wigs. A real human hair wig lasts up to a minimum of 2 years with proper maintenance.
As mentioned earlier in this post, some human hair wigs can last up to eight years. This makes them a very worthy investment.
2. How can you tell if a human hair wig is real?
A common way of telling if a human hair wig is made from real human hair is to carry out the burning test.
To do this, cut a hair strand from the wig and light it up using a matchstick or firelighter.
If the hair strand burns easily and gives us whitish, clear smoke, it is real human hair.
However, if it melts slowly like rubber and gives off black smoke, it is synthetic. Easy peasy.
There are other ways you can tell human hair from synthetic, and they are discussed in this post.
3. How do you store human hair wigs?
The best way to store a human hair wig is to place it on a wig stand. This will help it maintain its style and shape.
You can cover it with a satin or silk material to prevent dust and dirt from accumulating on it.
If you do not have a wig stand, you may keep your wig in a satin/silk bag or a shoebox – or get a wig stand.
4. How do I wash my human hair wig?
Prepare lukewarm water and add shampoo. Gently dip your human hair wig in it and leave for a few seconds.
Bring the wig out and dip in the water again. Do this until the wig looks clean. By the way, if the wig is very dirty, you might have to change the water while washing. Apply conditioner and rinse.
Do not squeeze out water. Place it on a wig stand and blow-dry.
5. Can you use regular products on human hair wigs?
There are conditioners specially made for human hair wigs, and it is recommended that you use these to maintain your wig.
However, you may use regular shampoos to wash your human hair wigs. It is better to use products specially made for human hair wigs for your human hair wig.
Final Thoughts
Human hair wigs are indeed a worthy investment. You can use them for a very long time and style them differently.
Doubtless, reading this post to an end has made you more familiar with human hair.
You are fully equipped to shop for human hair – at least better than you were before you read.
Keep in mind the types of human hair you've learned, the practical tips for online shopping, and the tips for storing and washing human hair wigs.
Then stop by at any of the listed human hair stores, and you can be sure to have not just an exciting shopping experience but also a wonderful experience using your human hair wig!