While coconut oil may be a more popular hair ingredient, many hair lovers have come to love a less popular part of the coconut plant; coconut milk.
Made from the white, edible part of the coconut, coconut milk has many powerful benefits for hair.
Let's start by seeing why hair lovers love coconut milk; its thrilling benefits for hair!
What does coconut milk do to your hair?
Coconut milk is rich in lauric acid, proteins, and many anti-oxidizing and B vitamins.
These ingredients are essential for healthy hair.
So when you make coconut milk a part of your hair care routine, you get to enjoy these benefits.
1. Stronger hair
Weak hair breaks and falls off easily, even from normal activities like combing and protective styling.
If you want to stop that from happening to your hair or maintain your hair strength, coconut milk can help.
Lauric acid, one of its main ingredients, is a type of fatty acid that penetrates the hair cuticle and strengthens it.
Proteins also make the hair stronger because hair is made up of keratin, a type of protein.
So when you use coconut oil for your hair, you infuse it with lauric acid and proteins, and it becomes stronger.
2. Moisturized hair and scalp
A dry scalp gives off flakes, and this can be just as frustrating as having dandruff.
Dry hair also breaks easily and looks unappealing.
The fatty acids found in coconut milk have very strong moisturizing effects.
So coconut milk can help you fight dry flakes on your scalp, stop hair breakage due to dryness, and make your hair shiny and beautiful.
3. Improves hair length
By making your hair stronger and moisturizing it, coconut milk helps to reduce hair loss or breakage.
You get to retain more hair length and that makes your hair growth more noticeable.
You can gain a few extra inches to your hair length when you use coconut milk for hair regularly.
4. Combat hair loss
Coconut milk is rich in vitamins C, vitamins E, and B vitamins.
These vitamins can help to prevent hair loss.
Even serious hair conditions like Alopecia can be improved by the vitamins contained in coconut milk.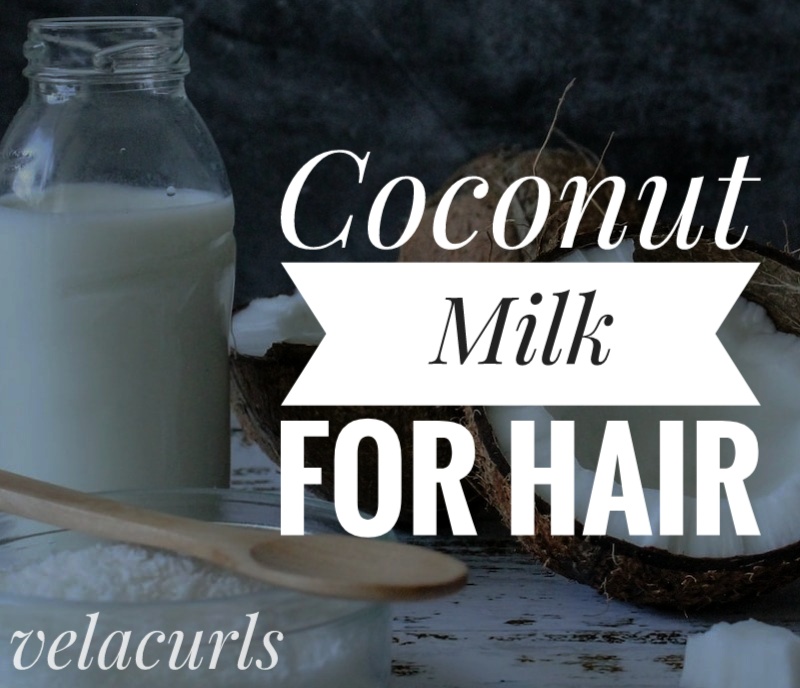 How do you make a hair mask with coconut milk?
Although readymade coconut milk is available at most grocery stores, it's best to prepare your coconut milk hair mask yourself.
Using a DIY hair mask helps you control the quality of ingredients that go into your hair, and you can adjust the quantity according to your hair's needs.
Before diving into the different coconut milk hair masks, let's start with how to make coconut milk.
You'll need:
A fresh, ripe coconut
Two cups of water
Small-pored sieve or preferably, muslin cloth
Cooking pan
Now, here's how to make coconut milk for hair
Separate the edible part of the coconut from its hard shell.
Rinse and grate the edible part. Alternatively, cut it into smaller pieces, add water, and blend them. You can add coconut water if you get enough from it.
Pour the grated (or blended) coconut into a small-pored sieve or muslin cloth and squeeze out the milk.
Boil one or two cups (depending on the quantity of the coconut) of water in a pan.
Add the sieved coconut milk to hot water and leave it for about five minutes.
Then, turn off the heat source and let the mixture completely cool down.
Refrigerate the coconut milk overnight. This helps it to harden and become easier to apply to hair.
Once your coconut milk is ready, you can now explore any of these coconut milk hair treatments.
Coconut Milk Treatments for Hair Growth
There's no die-hard rule for using coconut milk for hair.
You can use only the coconut milk or add other ingredients to it.
Here are some of the most popular and effective coconut milk hair treatments.
Coconut Milk Conditioner
For this, you're using purely coconut milk as a homemade hair conditioner.
It's a good choice if you're experiencing hair breakage or you want to strengthen your hair shaft.
After shampooing your hair, as usual, apply coconut milk to your hair. You may choose to warm the milk a little before applying it to the hair.
Start with the hair ends, which are usually the weakest part of your hair.
Then apply to other parts of your hair, including your scalp.
Take about five minutes to massage the coconut milk on your scalp.
Cover your hair with a shower cap for 20 to 30 minutes. Then, rinse off the coconut milk.
Note: You may add a few drops of essential oil to your coconut milk conditioner.
Coconut Milk and Lemon Juice Hair Mask
Lemon juice has effective cleansing effects. It is good for removing buildup on the scalp, leaving it smooth and healthy.
Mixing it with coconut milk produces a strengthening and cleansing hair mask.
Add two teaspoons of lemon juice to four tablespoons of coconut milk
Mix both ingredients, then let it cool up in a fridge for a few hours.
Apply the mix to your hair, starting from the ends to the roots. Don't neglect your scalp too.
Cover with a shower cap and leave it on for 30 minutes
Then, rinse off with water.
Note: Lemon juice can have a lightening effect on hair.
If you would not like any slight change to your hair color, it's best not to use this hair mask. Also, after adding lemon juice and freezing, the coconut milk may appear to coagulate.
This does not make the mix rancid or less effective, it's normal.
Coconut Milk and Honey
Honey has excellent humectant and emollient properties, so it helps to retain moisture in the hair.
It also fights bacteria, fungi, or viruses on the scalp, making your scalp healthy.
Use this hair mask if you want these benefits alongside the pros of coconut milk for hair.
Add three teaspoons of honey to six tablespoons of coconut milk.
Mix both ingredients so it forms a smooth paste.
Apply the mix to your hair thoroughly, then cover it with a shower cap.
Leave your hair covered for about 30 minutes.
Then rinse it off.
Coconut Milk and Aloe Vera
If you want to improve your scalp and hair health, opt for this hair mask.
Aloe vera treats bad scalp conditions and boosts hair health; it is one of the effective ingredients for steaming hair.
Mix one tablespoon of aloe vera with three tablespoons of coconut milk.
After washing your hair, apply the mix to all parts of your hair.
Cover your hair with a shower cap for about 30 minutes.
Then, remove the shower cap and rinse the mask off your hair.
Coconut Milk Hot Oil Treatment
Olive oil is one of the best carrier oils for hair.
You can add it to coconut milk to prepare a hot oil treatment for your hair.
You may also add rosemary leaves for added scent.
Preparing a hot oil treatment will take more time than the usual masks above, but the benefits are worth it.
Use a double boiler to heat half a cup of olive oil and two teaspoons of dried rosemary leaves for about three hours.
After boiling, sieve out the rosemary leaves and store the oil in a clean glass jar.
Add half a cup of coconut milk to the oil in the jar. Place the jar in a bowl of hot water for about five minutes.
Apply the mixture to your hair after washing.
Wear a shower cap for about 30 minutes.
Then remove the shower cap and rinse your hair. If your hair feels too greasy for your liking, wash it with a mild shampoo.
Do any of these hair mask treatments once a week for desired results.
Apart from making a coconut milk hair mask, you can also:
use coconut milk-based shampoos and conditioners for your regular hair wash;
add coconut milk to your shampoo and conditioner;
make coconut milk a regular part of your diet. What you eat affects your hair.
FAQs on How to Make Coconut Milk for Hair
If you still have a few more questions about how to make coconut milk for hair, do not worry.
Here are answers to some popular questions.
Does coconut milk help in hair growth?
Yes. Although coconut milk does not directly increase your hair growth, it nourishes your hair, scalp, and follicles.
This encourages your hair to grow healthily. You also get to retain more hair length.
How long should I leave coconut milk on my hair?
If you're using a homemade coconut milk hair mask, you should leave it on your hair for 20 to 30 minutes.
That's enough time for the nutrients to penetrate your hair and nourish it.
If you're using a coconut milk-based shampoo, conditioner, or styling product, you should follow the product instruction label to determine how long to leave it in.
Does coconut milk thicken hair?
Coconut milk makes your present hair strands stronger.
However, it does not increase the number of your hair strands.
Is coconut milk good for frizzy hair?
Frizzy hair is dry and unruly.
By moisturizing your hair, coconut milk helps get rid of frizziness and leaves your hair smooth and shiny.
So yes, coconut milk is good for frizzy hair.
Can I add coconut milk to shampoo?
Yes, you can mix equal quantities of your shampoo and coconut milk and use it to wash your hair.
Since coconut milk can go rancid, you should only add it to the amount of shampoo you need for a one-time hair wash.
Takeaway
Infusing your hair with natural ingredients is one of the best gifts you can give it.
Though not as popular as most, coconut milk is an excellent natural ingredient for hair.
Now that you've learned how to make coconut milk for hair, it's time to do your hair some good!
Try out any of the coconut milk hair treatments described above and watch how your hair thanks you for it.