Hair conditioners help keep the hair moisturized, silky, and tangle-free.
You know all that.
But are there ways to make hair conditioner on your own?
Or do you always have to rely on commercially produced ones that you are not sure of their make-up?
Well, the good news, which you probably know already and that brought you here, is that you can prepare your conditioner – using simple, natural ingredients that you probably have at home right now!
Apart from the fact that you get to choose what goes in your hair, making your hair conditioner will save you cash.
Here, you'll be getting healthy but easy DIY recipes for hair conditioners, as well as helpful tips on how to use them. Let's get started!
How to Make Hair Conditioner From Scratch
Hair conditioners contain a base, pH balancer, and hydrating ingredients.
So how do you make a hair conditioner from scratch?
You'll need:
Liquid base: This could be water or milk.
pH balancer: Examples are apple cider vinegar (ACV) and lemon juice.
Hydrating ingredients: Natural ingredients that provide hydration/moisture to the hair. Examples are coconut oil, shea butter, banana, and a whole lot more.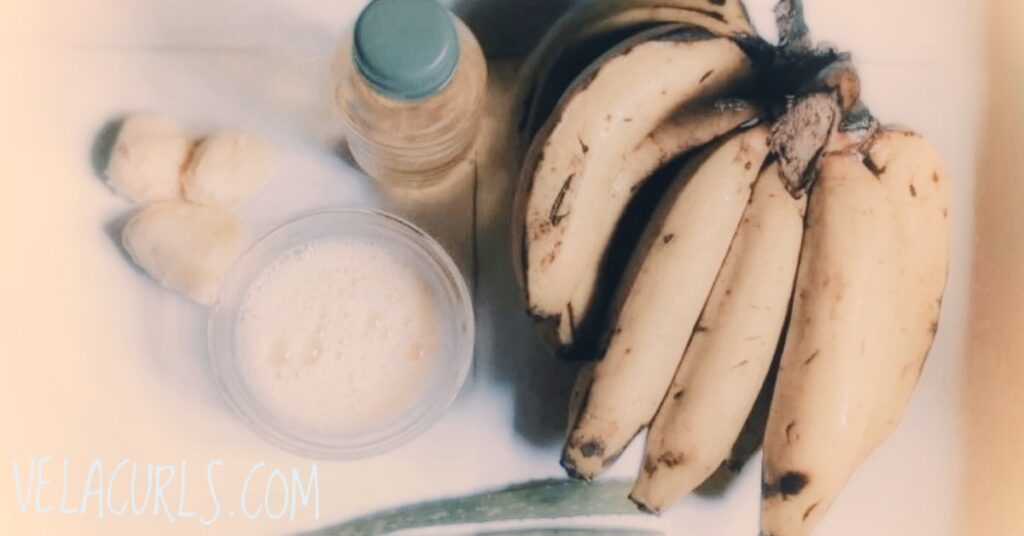 How to Make Hair Conditioner in Nigeria
Nigeria is blessed with many natural ingredients that are essential for healthy hair.
We'll be seeing ways to make hair conditioners using these ingredients.
If you are also wondering how to make a hair conditioner for dry hair at home, these recipes are practical for just that.
Where are my naturalists at??
Don't miss out on these natural hair conditioners to keep your hair moisturized!
Relaxed or transitioning hair?
Boost your hair's moisture with these natural conditioners!
Note: Since the following hair conditioners are purely from natural ingredients, you should use them entirely once you make them.
Else, they go rancid.
While some may last for a few days if refrigerated, you'd have to add preservatives to most if you want to store them for future use.
Also, be sure that you have no allergies to natural ingredients you choose before using them.
1. Avocado
Avocado pear can be gotten easily in most places.
Being a source of vitamin E, avocado helps to maintain hair growth.
This avocado conditioner recipe can be used as a deep cleansing conditioner useful for fighting dandruff.
What you'll need
1 ripe avocado
1 teaspoon coconut oil
2 teaspoons honey
¼ cup aloe vera juice
1 teaspoon lemon juice
Water (optional)
Steps
Cut avocado into two to make it easier to peel and remove the seed.
Add all ingredients (including peeled avocado) to a blender and mix.
2. Yogurt and egg
We all know that eggs are rich in protein, and that's precisely why it is good for your hair.
Lactic acid contained in yogurt makes it great for cleansing your scalp.
Follow this recipe to maintain a clean scalp, strengthen your hair, prevent breakage, and add luster.
What you'll need
½ cup of plain yogurt
1 egg
1 or 2 teaspoons mayonnaise
Steps
Separate egg white from the yolk. The white part is what you need.
Add to the mayonnaise and yogurt and whisk together in a bowl.
3. Shea butter
Shea butter is well-known for its moisturizing properties.
There are other wonderful benefits of Shea butter for hair.
What you'll need
1 tablespoon Shea butter
2 tablespoons olive oil or coconut oil
Steps
Melt Shea butter in a double boiler or by placing in a bowl over boiling water
Add olive oil and mix.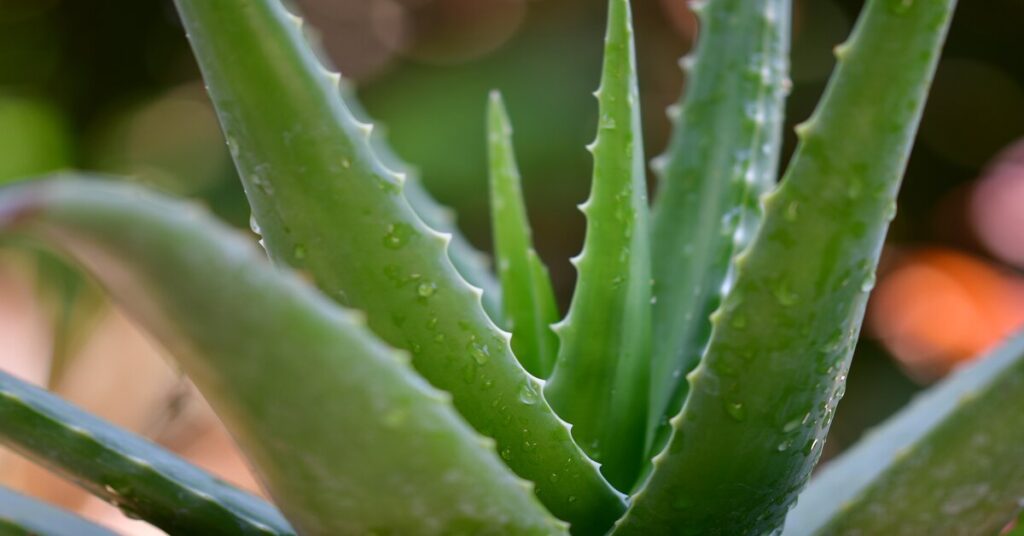 4. Aloe vera
Aloe vera works as a pH balancer and can help stimulate hair growth.
It contains salicylic acid, amongst other nutrients, which makes it effective for fighting hair loss.
What you'll need
2 aloe vera leaves
2 ripe bananas
Steps
Extract gel from the aloe vera leaf.
Peel bananas and cut them into smaller chunks
Mix both in a blender until the mixture becomes smooth.
5. Milk and Honey
Milk and honey both contain hydrating properties, and they help nourish the hair.
The mixture of both ingredients is one of the best ways to make a hair conditioner with natural ingredients.
What you'll need
½ cup of whole liquid milk
1 teaspoon honey
2 drops of olive oil
Steps
Mix all three ingredients.
You may add cloves for a nicer smell.
6. Apple cider vinegar and egg
Vinegar helps to balance pH in the hair and scalp and also improves hair strength.
Egg, as well as olive oil, also contribute to hair strength.
This hair conditioner will, therefore, make your hair stronger and healthier.
What you'll need
2 teaspoons vinegar
1 teaspoon lemon juice
2 teaspoon honey
3 drops of olive oil
Two eggs
Steps
Separate egg white and whisk
Add all other ingredients and mix well in a blender.
Note: Apple cider vinegar can be used as a conditioner itself.
However, you'll need to dilute it with water to prevent damage to your hair.
One cup of water to two tablespoons of vinegar will give the needed balance.
6. Banana
As a rich source of potassium, vitamins, and natural oils, banana moisturizes the hair, maintains elasticity, and adds shine to the hair.
Here's one of the ways to make hair conditioner using a banana and enjoy all these benefits.
What you'll need
1 ripe banana
1 egg
3 teaspoons honey
3 teaspoon olive oil
Steps
Mash banana in a bowl.
Add the egg white to the mashed banana and whisk
Add other ingredients and mix them.
Note: You may mix all ingredients in a blender.
7. Coconut oil
Coconut oil has moisturizing and penetrative properties that make it fit as a conditioner on its own.
What you'll need
4 tablespoon coconut oil.
Steps
Heat coconut oil until it feels warm.
It is ready to be used as a conditioner.
8. Egg and olive oil
Olive oil works well as a moisturizer and helps to reduce scalp irritation.
This mixture will leave your hair silky and increase manageability.
What you'll need
2 eggs
2 teaspoons olive oil
2 tablespoons mayonnaise
Steps
Whisk eggs, add mayonnaise, and mix thoroughly
Add olive oil and mix.
How do You use Hair Conditioners?
Have you ever read about or heard about the fantastic benefits of hair conditioners and then start to wonder, 'why isn't my hair as great as they make it sound?'
Well, while facts may sometimes be exaggerated, it could also be because of seemingly little mistakes you make when applying hair conditioners to your hair.
After practicing one or more of these ways to make hair conditioner, here are tips on using it; to help you get the best out of their use.
1. Prepare hair
In most cases, a conditioner is applied when the hair is wet.
But your hair shouldn't be dripping with water when you apply a conditioner; this would prevent the conditioner from getting absorbed into the hair.
If you are applying conditioner after shampooing, ensure to rinse out all the shampoo before you condition.
Then squeeze out water or softly towel-dry hair before you apply a conditioner.
There, that's your first step to effectively using hair conditioners!
2. Apply minimum quantity
Stuffing your hair with too many conditioners leaves it heavy, greasy, and prone to oil buildup.
Though depending on your hair's thickness and volume, you should apply as less as possible conditioners to your hair.
It would help to start with just a little quantity on your fingertips and then add as you go, instead of pouring a large amount on your hair and trying to spread through.
3. Focus on the tips
Your hair roots are closer to the scalp, where sebum is naturally produced, so they usually get a regular supply of moisture.
Your hair ends, however, are, well, not that fortunate.
Instead of applying hair conditioners directly to the roots, apply to the hair ends, and then work through to the roots using your fingers.
Your hair ends need conditioning more than any other part of your hair so they can stay healthy, moisturized, and look great!
After finger-detangling, you'll likely still need to use a wide-toothed comb to thoroughly comb the hair out.
4. Leave for a while
Hair conditioners are no magic wand; they do not affect the hair the moment they get on it.
This is why you should give it time to get absorbed in your hair.
But no worries, it doesn't take a lot of time; they get absorbed in little time.
Except if you are deep conditioning, a minute or two is sufficient.
Just do not wash off the moment it gets on your hair.
For deep conditioning, leave the conditioner on your hair for 30 to 45 minutes.
5. Rinse out thoroughly
You also want to rinse out conditioners thoroughly to prevent your hair from feeling too greasy.
This is why some recommend shampooing after using conditioners and not before.
Whichever way, ensure to rinse out thoroughly using cold water.
Do not worry about using too much water; there's no overdose of water for washing hair.
Of course, rinsing out the conditioner is not needed if you are using it as a leave-in conditioner.
6. Condition often
While shampooing should be done less often to protect your natural oils, conditioning your hair often will help rehydrate and nourish your hair.
You should follow each shampooing process with a conditioner or try co-washing (washing hair with conditioners only).
Generally, hair conditioning should be done two to three times per week.
Of course, you have to condition less often if your hair is greasy or superfine.
7. Choose the right conditioner
Choosing the right conditioner requires knowing your hair type and might involve you trying out various products.
But the efforts would be worth it because nothing works well as what suits you.
Here are some excellent tips to help you choose the right conditioner for your hair type!
Conclusion
Now you know various ways to make hair conditioner, as well as how to use them.
Keep in mind that the quantities prescribed above are for hair with average length and thickness.
Depending on the volume and length of your hair, you might have to reduce or increase them.
When you do, you can be sure to keep your hair moisturized, silky, and healthy.
You even get to make your braids last longer.
All these hair benefits will be yours- all thanks to natural ingredients for hair conditioners!