I've had my fair share of using shampoos that contain parabens, silicone, sulfates, and many other harmful ingredients. 
That was until I found out that they were actually harmful ingredients. 
In my quest to switch to a shampoo and conditioner that'd do my hair more good, I came across Alberto V05 Shampoo and Conditioner. 
The inscription "Paraben-free, Silicone-free" on the bottle attracted me. 
Now, it's roughly six months that I've been using that duo and I've decided to share my experience using the products. 
Like every other one of my posts, I hope that this post will help you come to a great hair decision! 
I'll start with the Alberto V05 Shampoo!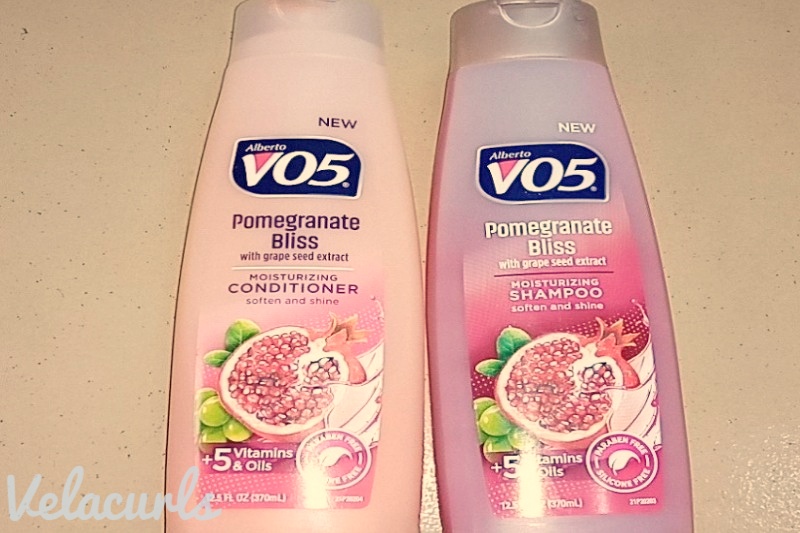 My Experience Using the Alberto V05 Shampoo
First off, Alberto V05 has quite a variety of shampoos. 
There's the volumizing shampoo (for body and bounce), revitalizing shampoo, and the moisturizing shampoo which could be pomegranate bliss, coconut oil, blackberry, raspberry, or lime extract. 
And I doubt that's even all. 
The type of Alberto V05 Shampoo you choose to use would depend on your hair needs and its availability in your locality. 
I use the Alberto V05 Moisturizing Shampoo; Pomegranate Bliss to be specific — the one shown in the picture above. 
Here's what I have to say about the product: 
1. It is Moisturizing
The Alberto V05 moisturizing shampoo is a perfect choice for me because my hair tends to be very much on the dry side.  
As mentioned earlier, I previously used various types of shampoos. 
The majority left my hair annoyingly dry after each wash. The conditioners I used didn't make it much better either. 
I would still feel a measure of dryness even after conditioning my hair. 
This shampoo, however, lives up to its claim of being a moisturizing shampoo. It leaves my hair really soft after washing. 
The inscription on the bottle claims that it softens and shines hair and yes, it does just that. 
I even get tempted to ignore the conditioner after shampooing — which is a very bad hair habit by the way — because it makes my hair so easy to comb even before applying the conditioner. 
2. It has a Nice Scent 
I have a thing for hair products that leave my hair smelling nice. 
It is one of the reasons why I love Mega growth daily leave-in strengthener as mentioned in the product review I posted. 
Alberto V05 moisturizing shampoo has a scent that I naturally like. 
The scent after washing isn't as strong as when you're washing it, but I think that's even better.
3. It Cleanses Hair Effectively
Alberto V05 Shampoo effectively does what shampoos are meant to do — cleanse the hair. 
Recently, I've been using leave-in conditioners regularly. 
That leaves a high tendency of product buildup on my scalp. The current harmattan dust also drops its share of deposits.
This shampoo clears all that off. 
It leaves not just my hair, but also my scalp clean. 
I don't even have to go to the mirror to check if my scalp and hair are clean, a mere touch says it all. 
But yeah, the mirror confirms it too, lol. 
4. It Doesn't Take Much to Clean
I like the fact that I do not need much quantity of Alberto V05 Shampoo for a single hair wash.
 Just a little quantity would leave the hair clean, moisturize it, and give it that nice scent I talked about.  
Therefore, one bottle can last for a long time. Considering its relatively low price, this is an amazing pro!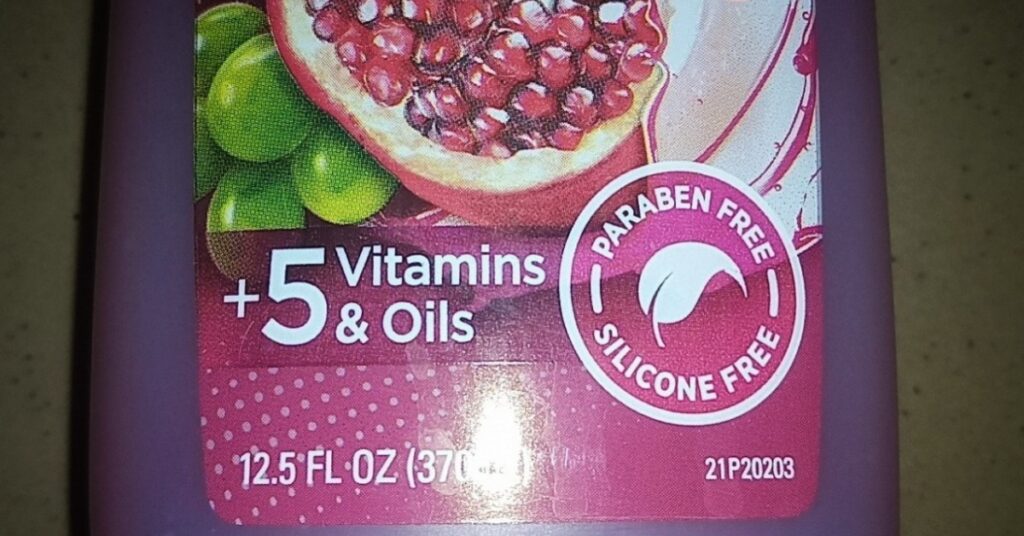 Alberto V05 Shampoo Con
The only issue I have with this shampoo is that while it is Paraben and Silicone-free, it contains Sulfates. 
On its lists of ingredients, I find Sodium Laureth Sulfate and Sodium Lauryl Sulfate. 
Sulfates are bad because they can strip the hair of useful oil and moisture. They can also make the scalp dry and unhealthy. 
Ironically, despite containing sulfates, Alberto V05 Shampoo leaves my hair soft and moisturized, which is why I'm still sticking with it. 
Any hint of dryness like I had with my previous shampoos; I'm out of here (And of course, I'd let you know!) 
Aside from containing sulfates, I see no other con associated with the V05 shampoo.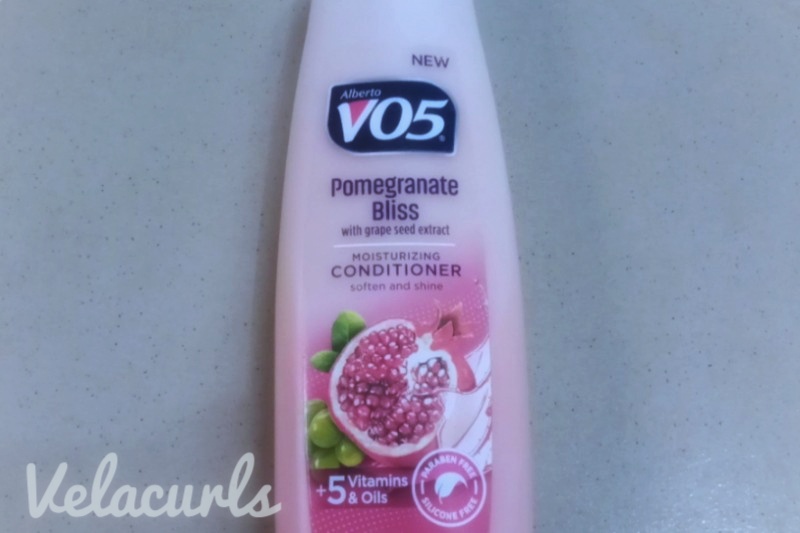 My Experience Using the Alberto V05 Conditioner
Like the shampoo, Alberto V05 Conditioner also has a variety — revitalizing, moisturizing, and the others mentioned earlier. 
I use the Alberto V05 moisturizing conditioner (pomegranate bliss); the exact complement of the shampoo I use. 
Here's my review of the product: 
1. It Moisturizes Effectively
Remember how well I said the shampoo moisturizes my hair? 
The conditioner does a much better job. 
It excellently detangles hair and leaves it smooth and shiny. I love this conditioner so much. 
2. It Has a Nice Scent
It is not just V05 shampoo that smells so nice, the conditioner does too. 
I like the fact that they both have similar scents; leave my hair smelling nice whether I co-wash or I do the usual washing with both shampoo and conditioner. 
3. It does not weigh on my Hair
While some conditioners may leave the hair heavy and greasy, the Alberto V05 conditioner does not do that to my hair. 
As long as I rinse it off with enough water, my hair does not feel greasy at all. 
Instead, I get this feeling that comes with clean and moisturized hair. 
Other Products from Alberto V05
The official page of Alberto V05 explains that the V05 in the brand name represents the fact that each of their products is infused with a mix of 5 vitamins gotten from Sunflower Seed Oil, Mango Seed Oil, Sweet Almond Oil, Rosemary Leaf Oil, and Chamomile Flower Oil. 
I found that strangely intriguing.  
These vitamins — Vitamin E, Vitamin C, Vitamin B5, Vitamin B3, and Biotin — are all essential hair ingredients. 
Apart from shampoos and conditioners, V05 also produces the following hair styling products:
1. Styling Gel 
This Alberto V05 Perfect Hold Styling Gel is an effective gel great for different hair types. 
2. Texturizing Gum 
The V05 Texturizing Gum is great for defining and laying down styles even on natural hair. It also does a great job at curling edges. 
3. Hairspray 
V05 also produces different hairsprays (Extra Body, Brush Out, Unscented, and Super Hairspray). 
This review mentions that the product is 'quick to dry and offers a natural-holding look" — excellent characteristics of a good hairspray. 
4. Hot Oil Treatments 
Alberto V05 Hot Oil Treatment, designed for all hair types but especially curly hair, is great for providing moisture to the hair before or after shampooing.
It preserves the hair's natural oil when used before shampooing and provides intense moisturizing when used after.  
This product is highly rated on Amazon.
Summary
Using Alberto V05 shampoo and conditioner has been great for my hair. They leave my hair feeling soft, moisturized, and properly cleansed. 
My hair also smells really nice. 
It's been a great experience so far and I definitely recommend this product! Good thing is, it is very much affordable and available in most places. 
Whatever you do, make sure you love your hair and care about it! 
Do you use Alberto V05 products too? I'd love to get your reviews in the comment section!