We all want pretty hair. And what makes beautiful hair?
Length and Health.
Well, in most cases, you get to have little control over the length of your hair.
But what can you control? The health.
Here is one magic wand to healthy hair: The benefits of aloe vera and coconut oil for hair.
That is precisely what I will be unveiling in this article.
Therefore, it is your key to being in control of your hair's health.
Read on to find out the fantastic benefits of aloe vera and coconut oil for hair – for your hair.
First, let's briefly talk about aloe vera for hair.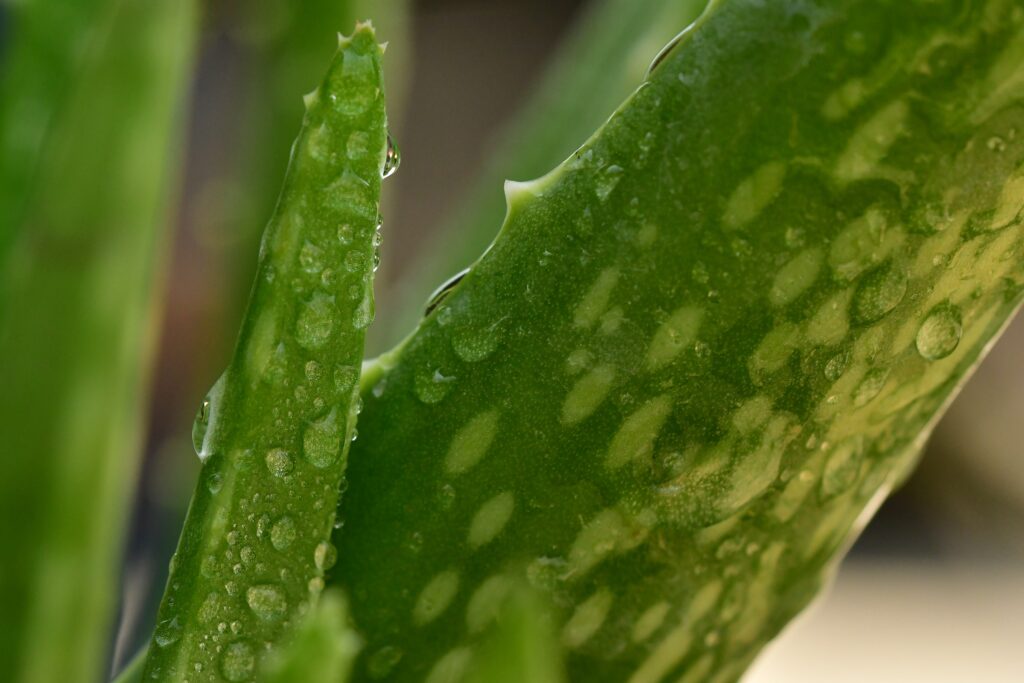 Aloe Vera For Hair
Aloe vera is a plant species of the genus Aloe well known for its agricultural and medicinal benefits.
It has thick leaves concealing the gel, an excellent hair ingredient.
In addition, it contains vitamins A, C, E, and B12 as well as folic acid, enzymes, minerals, and other components necessary for healthy hair growth.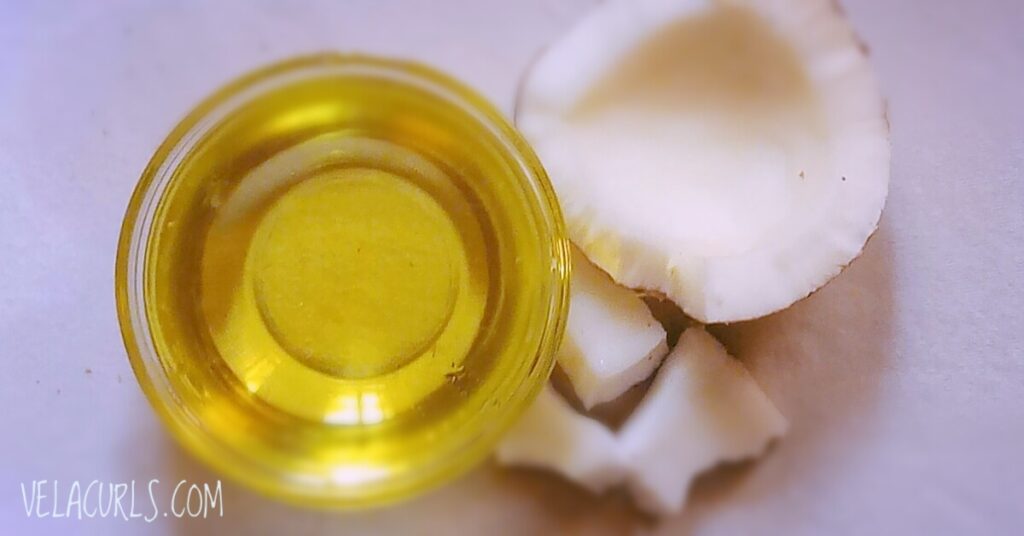 Coconut Oil For Hair
Coconut oil is rich in fatty acids; hence an excellent hair oil.
It is usually used as a leave-in treatment or in hair masks.
It has several benefits for the hair, including reducing dryness, nourishing the scalp, and sealing moisture in the hair.
Click here for the many other benefits of coconut oil for hair.
Now let's get to it; what do you get from the combination of aloe vera and coconut oil?
The following are the benefits of aloe vera and coconut oil for hair.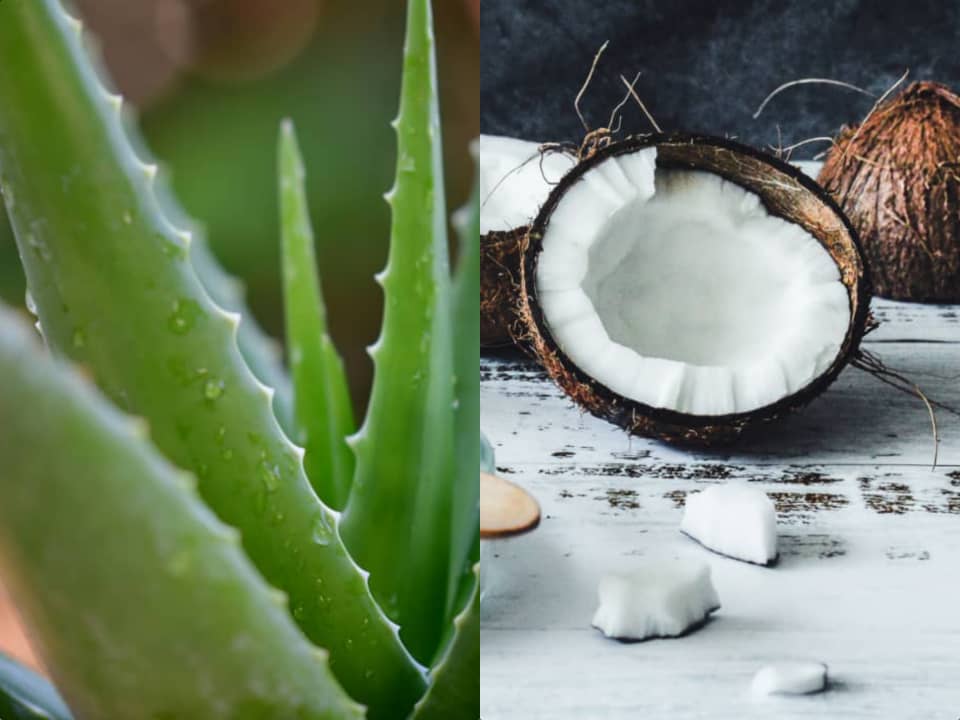 Benefits of Aloe Vera and Coconut Oil for Hair
1. Improves Hair Strength
Aloe vera promotes healthy cell growth, thanks to vitamins A, C, and E contained in it.
This is important to the strength of your hair as hair growth starts within the scalp cells.
Coconut oil contains lauric acid, which helps to improve the protein structure of your hair.
This mixture, therefore, strengthens your hair and prevents it from breaking.
2. Cures and Strengthens Damaged Hair
If your hair is damaged, aloe vera and coconut oil can be the savior you've been waiting for.
By damaged, I mean dull hair, unhealthy scalp, constantly occurring split ends, and the likes.
Both aloe vera and coconut oil are excellent conditioners, making this mixture effective for bringing your hair back to life.
Aloe vera contains enzymes with healing properties, enabling it to repair dead scalp cells.
Its anti-fungal properties also help to restore the scalp to good health.
3. Scalp Treatment
Aloe vera contains anti-inflammatory properties, making it practical for treating scalp irritations such as redness or soreness.
Aloe vera and coconut oil would be a lifesaver when the scalp gets burnt due to a relaxer application.
Because it contains certain enzymes and fatty acids, it can also help to reduce scalp inflammation.
An itchy scalp can be controlled using aloe vera.
4. Silkiness and Softness For Hair
Aloe vera is rich in protein and contains proteolytic enzymes which help to enrich hair follicles.
It is also highly moisturizing, making it a key to saying bye to dry and frizzy hair.
With the inclusion of coconut oil which ordinarily adds luster to hair and controls frizz, sis, you are so getting silky and soft hair!
5. Panacea for Oily Hair
Oily hair is terrible mainly because the excess oil prevents the hair strands from receiving moisture and staying hydrated.
The fantastic mixture of aloe vera and coconut oil can serve as a remedy for this condition because aloe vera will cleanse the scalp and eliminate excess oil.
Simultaneously, coconut oil will balance the hair's moisture and hydration level, preventing dryness caused by loss of hair oil.
6. Controls Dandruff
Tradition supports the use of aloe vera and coconut oil for effectively controlling dandruff.
The anti-fungal properties of coconut oil enable it to fight the fungus Malassezia, the root cause of dandruff.
The moisturizing properties of aloe vera and coconut oil help control scalp irritation and flaking caused by dandruff.
This mixture is therefore excellent for controlling dandruff.
7. Controls Sun Damage
Many people use Aloe vera to prevent skin damage caused by exposure to the sun.
This suggests that it can also control sun damage to the hair.
Its cooling properties and high collagen content make it practical for doing just that.
Read more on what sun damage can do to your hair and other practical ways to prevent it here.
8. Fosters Hair Growth
Aloe vera and coconut oil will also help to foster your hair growth.
How?
You see, the vitamins contained in aloe vera (vitamins A, C, and E) help to repair damaged scalp cells, while the folic acid content will prevent your hair from falling out.
In addition, fatty lipids contained in coconut oil helps to strengthen hair cuticles, hence, preventing breakage.
With hair loss and breakage prevented, hair growth is enhanced.
How to Make Aloe Vera and Coconut Oil For Hair
Now that you know what you stand to gain, here is how you can prepare a hair mask using aloe vera and coconut oil for your hair such that you benefit maximally.
What You Will Need
Three tablespoons of aloe vera gel
One and a half tablespoon of coconut oil
Small bowl for mixing
Shower cap
Two towels
Wide-toothed comb (Big comb)
Water
Once you get aloe vera leaves, you can easily use a spoon to extract the gel from the leaves in the required amount.
Otherwise, you can purchase aloe vera gel at a nearby grocery store.
For the best benefits, use virgin coconut oil; unrefined.
If it is solid, you can easily melt it using the double boiler method or in a microwave.
Steps
Add aloe vera and coconut oil together in a bowl and stir until it becomes smooth. Aloe vera usually contains lumps so you want to take your time doing the stirring till the paste becomes smooth.
Using the first towel, drape yourself to protect your clothing.
Part your hair into about four sections; you could increase or reduce depending on the thickness of your hair.
Using your fingers (or the back of a rat-tail comb if you find it comfortable) apply the paste on each hair section starting from mid-shaft.
If you aim to treat your scalp with aloe vera and coconut oil, start applying from the scalp. You can then work through mid-shaft.
Use fingers to work the paste through your hair ends.
Apply on every hair section. Then, using a wide-toothed comb, gently comb out the entire hair.
Wear a shower cap on your hair.
Wrap the second towel (preferably warm) around your head on the shower cap. Asides from preventing your hair from drying out, this will prevent the hair mask from dripping.
Keep yourself busy for 30 minutes and let the hair mask do its thing. I often keep myself busy with my phone or I take random selfies like the one below and before I know it, boom, 30 minutes is gone!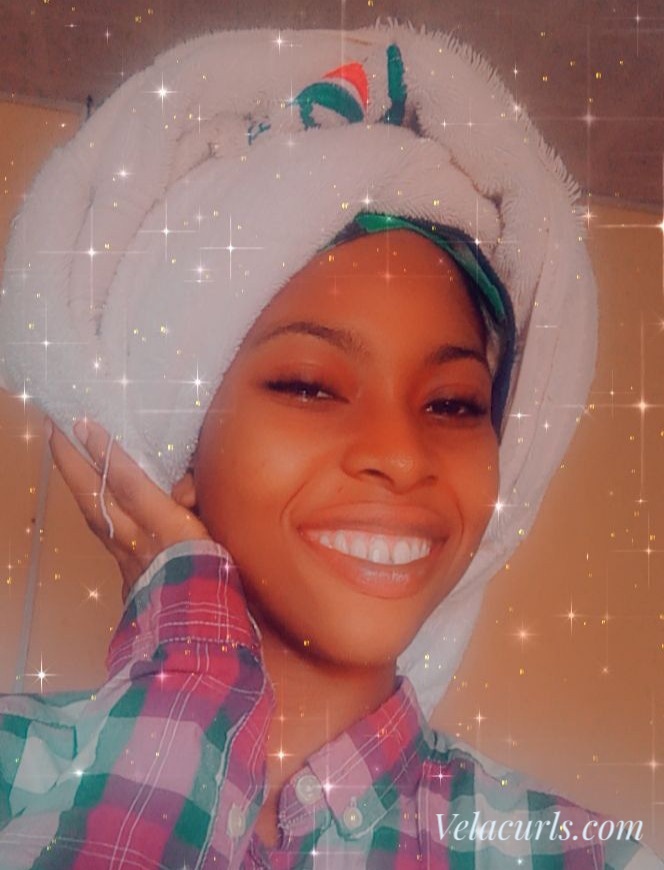 After 30 minutes, un-tie the towel, remove the shower cap and get your hair rinsed using cold water.
If you notice remnants of the hair mask after multiple rinses (which is likely kudos to aloe vera gel) use a little shampoo to wash your hair.
Allow hair to dry naturally.                                                             
For incredible effects on your hair's health, use aloe vera and coconut oil as your usual weekly conditioner.
Frequently Asked Questions About the Benefits Of Aloe Vera and Coconut Oil For Hair
Here are answers to some of the questions you may have about aloe vera and coconut oil for hair:
Can Aloe Vera and Coconut Oil be used for All Hair Types?
Virtually all hair types can benefit from aloe vera and coconut oil hair mask.
However, it is particularly beneficial for dry, curly, oily, and natural hair.
What Other Things Can I Add to Aloe Vera for Hair?
Apart from coconut oil, your hair would also benefit from the following aloe vera hair recipes:
Aloe vera and Honey
Aloe vera and Yogurt
Aloe vera and Apple Cider Vinegar (ACV)
Aloe vera and Ginger Juice
Aloe vera and Castor Oil
Aloe vera and Lavender Oil
Are There Any Risks to Using Aloe Vera and Coconut Oil for Hair?
If you have any allergies to either of these ingredients, then you should avoid this mixture.
Even if you have no confirmed allergies, it is best to do a patch test before using aloe vera and coconut oil for hair.
You can easily do this test by applying aloe vera (and coconut oil after that) on a part of your skin, preferably your inner elbow.
If your skin does not act any funny drama (redness, soreness) after a few hours, it is safe for you to use.
Aloe Vera Gel or Aloe Vera Juice: Which is better for Hair?
This depends on your hair type.
Aloe vera gel is thick and therefore preferable for coarse and thick hair.
Aloe vera juice is light and would be better for fine or thin hair.
Summary
Aloe vera and coconut oil mix is such a rich ingredient for your hair.
It will make your hair healthy, silky, prevent it from falling out, and control unfavorable scalp conditions.
It will also provide your hair with something so essential – moisture.
I'd say it's a mixture you shouldn't deprive your hair of!